Every week we work directly with local producers, going to their farms their farms to purchase the small, big or misshaped fruit and vegetables that they cannot sell. With these products we set two sizes of boxes and sell them to consumers associated to the cooperative in several deliery points throughout the the country.
Our consumers pay, when picking up their first Fruta Feia box, an annual fee worth 5 €.
To sign up on the co-Op click here . By signing up, you will be included in an interested consumers list and once there are vacancies in one of the delivery points in your residence area and/or work, we will get in touch with you to weekly start picking up your box.
Once you are invited by email to start picking your Fruta Feia box, you must:

Accept our invitation to the delivery point for which you were invited or, on that same email, ask for relocation to another delivery point if the one where you were placed doesn't serve you.

Choose the most appropriate box for your family and/or friends:
Small box (€ 3,8) - contains 3 to 4 kilos and 7 varieties
Large box (€ 7,6) - contains 6 to 8 kilos and 8 varieties

Weekly pick up your box at the predefined delivery point. Deliveries are always on the same day and location. Check working hours and addresses
here
. Payment is done on the act.
If you cannot come to pick up your box, you must cancel it through your website consumers area within the box cancellation stipulated period of time or, in case of unforeseen events, contact your local coordinator through the contact that you receive on the first pick up. Failing to pick up your box without notice implies the full payment of the box: the farmers harvest the products according to our demand, and the Co-Op should not generate waste due to the consumer's lack of notice.
In case you run an association, a canteen, a small jams business, a restaurant, etc., please contact us so that we can check if the products you want are available and analyse the feasibility of preparing a package that matches you perfectly!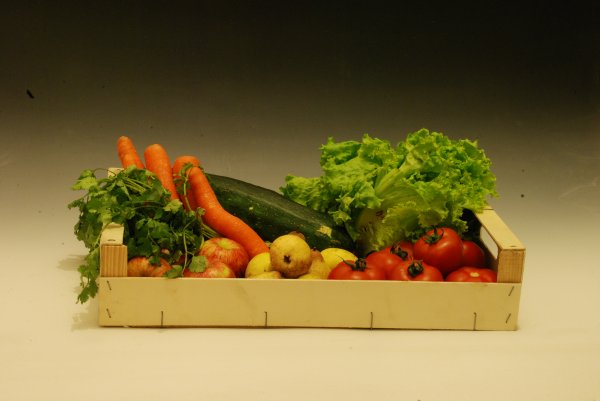 Small box 3 - 4Kg
Large box 6 - 8Kg